EH Miniature Lighted Pushbutton Switch
EH-G series +FLAT
The EH series, with its proven reliability, now includes a long-awaited unit with the flat configulation.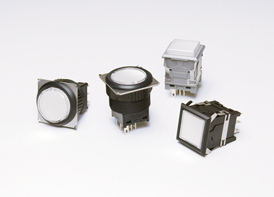 The flat configuration with its sophisticated design is now included in the lineup of the EH series.
Design-oriented
*A sophisticated switch with enhanced visual appeal was created in the quest to achieve a small, flat profile and an easy-to-operate button size.
Reliability-oriented
*Superior contact reliability was obtained by improving the dust resistance.
Functionality-oriented
*The flat profile is the optimum configuration for preventing operation errors.
*It helps to reduce space because the body is just 25.3mm long and the depth behind the panel is only 22.5 mm.
*A unit that uses connectors instead of wiring is available.
Applications
*Chip-manufacturing equipment, machine tools, communication devices, monitors and control equipment, broadcasting equipment, etc.

PDF DATA AVAILABLE FROM HERE.