High Visibility, Even in Sunlight
MLC Ultrabright LED Indicator
The ultrabright LED indicator, featuring high-power LED and IP65 compliance, is now available.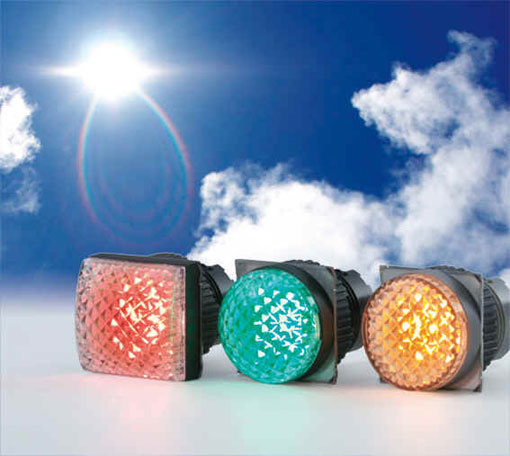 Ultrabright LED
It provides clear visibility even in sunlight: TYP.7000 cd/㎡(reference value)

Diamond-cut cover
It provides superior visibility by introducing the ultrabright LED and diamond cut cover.
Round dome type    Round flat type    Square dome type    Square flat type






Mounting Easy Φ25mm hole mounting with screwing
Terminal #187 Tab/Solder and Screw provided.
IP65 compliant type
Pvoviding protection from water flows withstands both rain and dust(this applies to the front only when the panel is attached)
Accessories
Terminal cover for screw terminals, Shade hood

Applications
For operational check, warming display, lighting in a dark place etc.