Super Miniature Lighted Pushbutton Switch
RH series
Only 9.2mm depth behind panel permits space saving on machinery.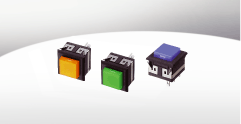 The miniature design is now included in the lineup of the Lighted Pushbutton Switch series.
Depth behind panel : Only 9.2mm
Button Size : 10mm square type LED
Full-Face illumination available.
Flanged type for panel mounting and without flange type for PCB available.
Flux Prevention support can be selected for the print board mount terminal.
Incorporated coil spring snap action switch assures high reliability and operating touch.